The Company focuses on the research and development of innovative drugs. With its experience and expertise in drug R&D, the Company has successfully established the R&D and commercialization platforms for small molecule drugs and complex recombinant protein drugs, including bispecific and trispecific antibodies. The multiple platforms of the Company meet international standards, and lead to the development of a series of novel, small molecule and protein drugs, covering multiple therapeutic areas with unmet medical needs.

The Company's R&D pipeline includes products at multiple stages of development. Donafenib Tablet has been marketed for the first-line treatment of advanced hepatocellular carcinoma. The clinical stage products include recombinant human Thrombin , Jaketinib Tablet, recombinant human Thyroid Stimulating Hormone for Injection, Jaketinib Cream, Obeticholic Acid Magnesium Tablet, ZG19018 Tablet, ZG005 Powder for Injection and Alkotinib Capsule, etc. The continuous advancement of our technology platforms and the growing pipeline create a unique competitive advantage and provide a solid foundation for future growth.

GENSUN, a subsidiary of the Zelgen, develops the innovative protein immuno-therapeutics for the field of oncology. The current pipeline of bispecific and trispecific antibodies includes,
(1) inhibiting multiple immune checkpoint pathways;
(2) blocking multiple key drug resistance pathways for current immune checkpoint treatments;
(3) simultaneously blocking angiogenesis and immune checkpoint pathways; and
(4) targeted immunotherapy that releases cytotoxic cells to directly kill tumor cells. Bispecific and trispecific antibodies block multiple tumor signaling pathways simultaneously, reducing the high cost incurred when treating patients with two or three different therapeutic antibodies. GENSUN's product pipeline not only improves the efficacy and market opportunities of the current treatment options, but also brings greater pharmacoeconomic benefits.
Small Molecule New Drugs R&D Platform
The R&D and industrialization platforms for small molecule drugs is the basis for the research and development of novel small molecule drugs. One of the Company's key technologies is the world-leading drug stabilization technology. This platform takes advantage of the highly stable chemical-physical properties of deuterium-carbon bonds compared to hydrogen-carbon bonds, and has the potential to create new patented compounds that have higher efficacy, better pharmacokinetic properties, and/or lower incidence of adverse effects. This technology has effectively ensured success rate of new drugs for the Company. Additionally, the Company also actively discovers new small molecule drugs using structure-activity relationship screening, computer-aid simulation design, and new crystal form technology.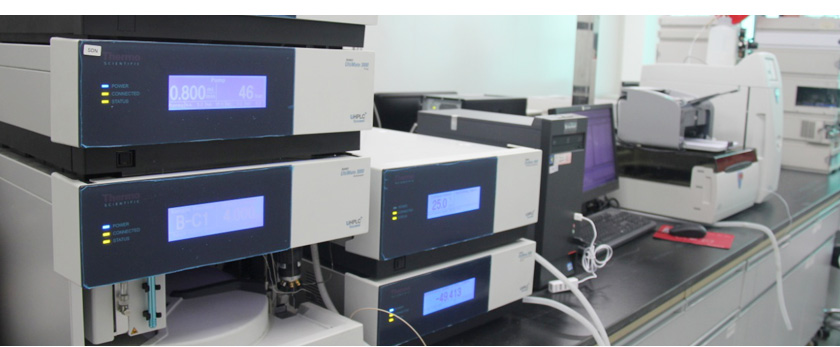 Recombinant Protein Drugs and Antibody Drugs R&D Platform
Complex proteins, such as coagulation factors and antibodies, can be subjected to multiple post-translation modifications. Therefore, the manufacturing of those proteins in the living cells creates challenges for the process and quality control. Our CMC platform for complex recombinant proteins and antibodies has allowed Zelgen to successfully develop recombinant human thrombin and recombinant human thyroid stimulating hormone for injection, also bispecific antibody ZG005. These products create unique, competitive position in the market.
GENSUN has built its technical capabilities to develop first-in-class or best-in-class antibody drugs for tumor immunotherapy. GENSUN's capabilities include the discovery of novel humanized therapeutic antibodies, the genetic engineering of complex bispecific and trispecific antibody molecules, in vitro and in vivo analysis, testing, screening, and identification of candidate drugs. This enables GENSUN to have capabilities of end-to-end discovery and optimization of protein therapeutic drugs that take advantage of high-potential targets and increase the chance of clinical and manufacturing success, as well as helping the Company to obtain the best candidate drugs and the global intellectual property rights. These novel antibody drugs can also be combined with the Company's novel small molecule targeted drugs to form highly promising combination therapeutic strategies.